Source : The New-York Times - 09 août 2012
For a Zealous Cop and a Gang of Two-Bit Thieves, Crime Does Not Pay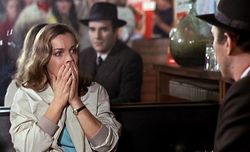 In the late '60s and early '70s, on television and at the movies, the streets were full of complicated cops: big-city detectives whose confusion, frustration and unorthodox methods reflected a general crisis of authority in the societies they served. Popeye Doyle, Dirty Harry Callahan and Frank Serpico (at least as imagined by Al Pacino and Sidney Lumet) made common existential cause with small-screen counterparts like Kojak and Columbo. Max, the sad, obsessive Parisian flic at the heart of Claude Sautet's "Max et les Ferrailleurs," is an especially memorable addition to this international brotherhood of disaffected policemen, even if his contributions have, until now, been largely forgotten.
Released in France in 1971, "Max et les Ferrailleurs" is receiving a belated and welcome American opening at the Elinor Bunin Munroe Film Center, the capstone of a Claude Sautet retrospective. Sautet, a director and screenwriter who died in 2000, is probably best known in this country for "Un Coeur en Hiver," his 1992 psychological drama starring Emmanuelle Béart and Daniel Auteuil.
But if he is something of a footnote in the history of French cinema — frequently overshadowed by contemporaries like Jean-Pierre Melville and the attention-devouring rebels of the New Wave — Sautet was also an original, a tough and subtle dramatist with a gift for teasing moral complications out of straightforward genre scenarios.
Shot (by René Mathelin) in harsh, grainy color in grubby, workaday locations in and around Paris, "Max et les Ferrailleurs," adapted from a novel by Claude Néron, has the matter-of-fact look and careful pace of a precinct-house procedural. The film's central crime is the robbery of a bank branch by a gang of small-timers, and most of the cops are beleaguered, cynical bureaucrats.
Max (Michel Piccoli) is different. A former administrative judge who at some point in the past traded his gavel for a badge and a gun, he stands out as a somber and aloof figure among his colleagues. His wide-brimmed black hat is closer to what a sheriff in a western might wear than to the standard fedora of the urban lawman, and family money frees him from the necessity of filing expense reports for the bachelor pad he rents or the prostitute he pretends to employ as he pursues his big case.
These are not the perks of ordinary corruption, but rather signs of Max's perverse and terrifying zeal. He believes, almost as a philosophical conviction, that the only real way to solve a crime is to catch the perpetrator in the act. The problem, of course, is that criminal behavior, like the rest of human life, is rarely predictable enough to ensure that outcome. Max's solution is to manufacture the crime he will solve, indirectly but methodically manipulating an old army buddy into planning a bank job.
The friend, Abel (Bernard Fresson), lives in Nanterre, an unlovely suburb where he and some pals — the "ferrailleurs," or junkmen, of the title — eke out a livelihood stealing scrap metal and chopping cars. Their lack of ambition is the opposite of Max's professional monomania, and some of the film's suspense arises from doubt about whether they will prove too lazy and disorganized to attempt the armed robbery that Max intends to foil.
His secret weapon is Lily (Romy Schneider), a German streetwalker who lives with Abel and who has slightly loftier aspirations than he does. Max, pretending to be a lonely, divorced banker, becomes her most loyal and lucrative customer, even though they never have sex. Instead, they drink wine, play cards and lounge around Max's apartment until their artificial intimacy starts to resemble the real thing.
Max is so quiet and resolute that it takes a while for the monstrous dimensions of his plan to sink in. The legal term for what he does to Abel is entrapment, but under Sautet's measured, merciless gaze it starts to look like a more profound betrayal of the basic idea of justice. More disturbing is that Max's colleagues and superiors seem to be aware of the plan and untroubled by its implications.
Max's cold, single-minded determination is undermined only by Mr. Piccoli's soft brown eyes, which communicate unspoken and enigmatic hurts. This remarkable actor, who was the cuckolded screenwriter in Jean-Luc Godard's "Contempt" and who has lately brought a melancholy twinkle to movies like Manoel de Oliveira's "I'm Going Home" and Nanni Moretti's "We Have a Pope," is one of the treasures of European cinema.
So, for a sadly shorter time, was Romy Schneider. (She died in 1982 at 43.) Her resilient grace keeps "Max et les Ferrailleurs" tantalizingly poised among comedy, realism and a tragic love story. In the '70s Schneider was a fixture in Sautet's films, and the overdue arrival of "Max et les Ferrailleurs" gives American audiences a chance to rediscover both of them.
Max et les Ferrailleurs
Opens on Friday in Manhattan.
Directed by Claude Sautet; written by Mr. Sautet, Claude Néron and Jean-Loup Dabadie, based on the book by Mr. Néron; director of photography, René Mathelin; edited by Jacqueline Thiédot; music by Philippe Sarde; produced by Roland Girard and Jean Bolvary; released by the Film Society of Lincoln Center. At the Elinor Bunin Munroe Film Center, 144 West 65th Street, Lincoln Center. In French, with English subtitles. Running time: 1 hour 52 minutes. This film is not rated.
WITH: Michel Piccoli (Max), Romy Schneider (Lily), François Périer (Rosinsky) and Bernard Fresson (Abel Maresco).