Source : The Daily Star - 08 juin 2012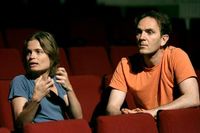 BEIRUT : "The story," said Thomas Cousseau, "starts with the ending." The French actor was referring to "Letter from an Unknown Woman," the play which he'll be helping to bring to life Friday evening at Monnot Theater.
Based on the 1922 novel of the same name by Austrian novelist Stephan Zweig, this dramatic theater piece is being staged as part of the Samir Kassir Foundation's annual Spring Festival.
Shortly after arriving in Beirut Thursday, Cousseau and his costar Sarah Biasini took a few minutes from their busy pre-performance preparations to discuss the play.
Set in 20th-century Vienna, "Letter from an Unknown Woman" tells the story of an unnamed writer (Cousseau) who receives a letter – yes, you assumed correctly, from an unknown woman – informing him their son has died of influenza.
The letter is addressed to "you who never really knew me." The mystery woman (played by Cousseau's countrywoman Sarah Biasini) fell irretrievably in love with Cousseau, then her next door neighbor, when she was only a child. Her love for him later deteriorated into an unhealthy obsession.
When Biasini's character turned 18, she says, she and the unnamed writer spend three non-consecutive nights together. The writer has no recollection of these nights, in the course of which she becomes pregnant.
Since studying theater at Los Angeles' Lee Strasberg Institute, Biasini has grown into a well-known actress. The films in which she's acted include Francis Huster's "A Man and His Dog." She has played opposite such renowned French actors as Jean-Paul Belmondo and Jean Dujardin, of "The Artist."
Cousseau has acted in many French television series. He's also stomped the boards frequently, working on such plays as Shakespeare's "Macbeth" (in 2006) and, in 2010, in the theatrical adaptation of U.K. writer Lee Hall's "The Pitmen Painters."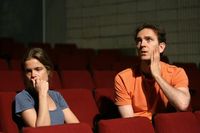 Cousseau said he finds it odd to play a character who has no clue why he receives an anonymous letter from an unknown woman he doesn't remember. "There is a big part [of the role]," said Cousseau, "that is emotionless."
He went on to remark that the more he plays the role of this writer, the more emotional he becomes, saying, "I have to [accept] the sentiments brought by this letter."
Biasini on the other hand said she feels the opposite about playing her character. She explained how her character wrote this letter when she just lost her child. "She starts from an [emotional] climax," Biasini said, "and then ends up impassive."
Later, she finds herself struggling with her own life, coming to terms with the fact that, without her child, her life has no meaning.
The originality of the play lies in the fact that it begins with its ending, a technique Zweig frequently used by in his novels.
"The spectator," Cousseau said, "has to get into this flashback."
The show may well confuse individual audience members. It will amaze many more with the intricacy of the process by which the events unfold – a process that allows the audience and the writer to simultaneously discover who wrote this letter and for what reasons.
"Letter From an Unknown Woman" will be staged at Monnot Theater Friday at 9 p.m. For more info, please call 01-202-422.
By Chirine Lahoud